We have a very strong and mutually beneficial relationship with a large range of manufacturers.
Our first-rate customer service and industry knowledge can help your practice and patients thrive. As the pharmaceutical repackaging specialists, we are in the position to stay in control of the cost and customer service we provide.
The management team at Proficient Rx has been in the pharmaceutical business for over 50 years combined. Repackaged medications are created in our fully licensed pharmaceutical repackaging facility. Our facility is NABP accredited and certified with DEA, FDA and State Boards of Pharmacy.
Proficient Rx maintains one of the most stringent and respected regulatory control programs in the industry. We work with healthcare providers across the country that experience great success with our dispensing program.
Our Facility
Our pharmaceutical repackaging facility has state-of-the-art 24 hour security that includes point of entry limitations and full-facility surveillance. The entire facility is maintained as a temperature and humidity controlled facility with daily recording and reporting capabilities for safely repackaging drugs.
The facility has multiple production rooms and a state-of-the-art high speed production line to accommodate all batch sizes. All equipment areas, processing lines and repackaged medications procedures are internally regulated for cleanliness and follow established guidelines by FDA and cGMP. Standard operating procedures provide for the breakdown, cleaning and reassembling of each piece of equipment used in the special handling of pharmaceuticals and similar products after each batch of prepackaged medication is made.
All controlled substances are securely stored and handled in accordance with DEA regulations.
The facility for repackaging drugs is registered by the FDA, accredited by NABP and licensed by the DEA, California Board of Pharmacy and California Department of Health.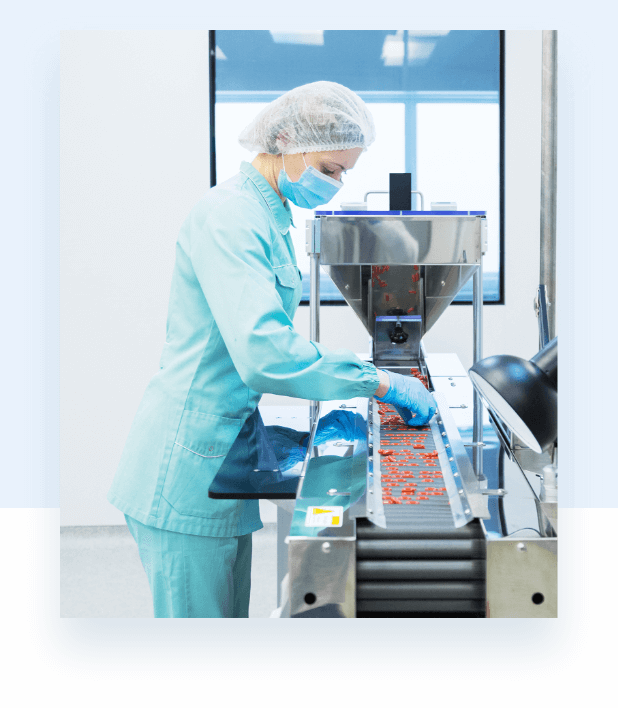 Our Mission Statement
To continue to be an industry leader in repackaged medications by creating long term relationships with our clients and maintaining an environment of unparalleled service and expertise.
Excellence in all areas of business is what we strive for. Our constant commitment to quality and service is demonstrated through the integration of progressive systems which are designed to give our clients a Gold Standard experience they never forget. Proficient Rx's quality of its products and services, dedication to its customers, and reputation in the marketplace is a vision that all of our employees share.
Our Goal
Our goal is to provide medical practices with simple and efficient means for ordering and dispensing repackaged medications and ensuring compliance throughout the process.
We strive is to be the industry leader in providing Physicians, Dentists, Workers' Compensation Clinics, Urgent Care Clinics, as well as other medical practices with an easier way to dispense medications directly to the patients that need them. Proficient Rx is a veteran owned state-of-the-art pharmaceutical repackaging company located in beautiful Thousand Oaks, California.
Proficient Rx's management team has over 50 years of combined experience in creating, producing and distributing pharmaceuticals. We offer point-of-care medication and technological dispensing programs for virtually every type of medical professional, community clinic, managed care organization and hospital organization that wants to dispense medication in office.
Repackaging & Labeling
Proficient Rx offers pharmaceutical bottling solutions for solid-dose products: tablets, capsules, caplets, soft gels and gel caps.
Our services include purchasing all of the components, including a broad selection of bottle sizes and resins, CRC or dispenser caps with induction seals, and digital or screen-printed labels with serialization, if required. We can run batches as small as 100 up to 1 million units. This enables us to meet our customers' needs regardless of their size and requirements.
Our bottling capabilities include:
Our flexible pharmaceutical repackaging operation provides fully-integrated solutions for pharmaceutical applications and consumer product lines while maintaining strict compliance with cGMP and FDA regulations.
The solid-dose products are sealed in standard or custom-packaging designs, including customizable labels and a variety of bottle options. Package sizes can be adjusted to meet specific customer needs.
Our unit-of-use packaging option is an innovative, cost-effective way to:
Proficient Rx's solid dose packaging facilities are DEA licensed to handle CII-CIV controlled substances.
All controlled substances are secured, handled and stored in accordance with DEA regulations. We are capable of meeting all states' reporting requirements of controlled substances.